Register Here for Online Delivery of Shareholder Materials
We are pleased to offer to our shareholders the benefits and convenience of electronic delivery, including:
Online delivery of the Proxy Statement, Annual Report, and related materials

Reduction of the amount of mail shareholders receive

Reduction of the Company's printing and mailing costs associated with more traditional delivery methods

To sign up for electronic delivery, please click on the first letter of your brokerage firm's name in the box to the right.
If you have any questions regarding this delivery option, please contact us.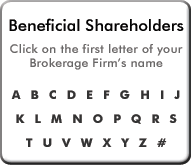 You are a Beneficial Shareholder if you maintain your position in the Company within a brokerage account.