Electronic Delivery Enrollment
Register Here for Online Delivery of Shareholder Materials
We are pleased to offer to our shareholders the benefits and convenience of electronic delivery, including:
Online delivery of the Proxy Statement, Annual Report, and related materials

Reduction of the amount of mail shareholders received

Reduction of the Company's printing and mailing costs associated with more traditional delivery methods

Vote your Proxy electronically at www.proxyvote.com*
*Voting at www.proxyvote.com requires the control number provided on either the hard copy Vote Instruction Form or the Electronic Delivery Notice you received. Please note that if you receive material electronically you will also be required to enter the 4 digit PIN you enrolled with at the time you chose to receive material electronically.)
Enroll now by clicking on the appropriate selection on the right.
If you have any questions regarding this delivery option, please e-mail us at Investor Relations.


You are a Registered Shareholder if you have
your stock certificate in your possession.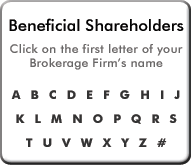 You are a Beneficial Shareholder if you
maintain your position in the Company
within a brokerage account.


You are a Foreign Shareholder if you do not have
a US/Canadian Social Security Number or
Tax ID associated with your account.